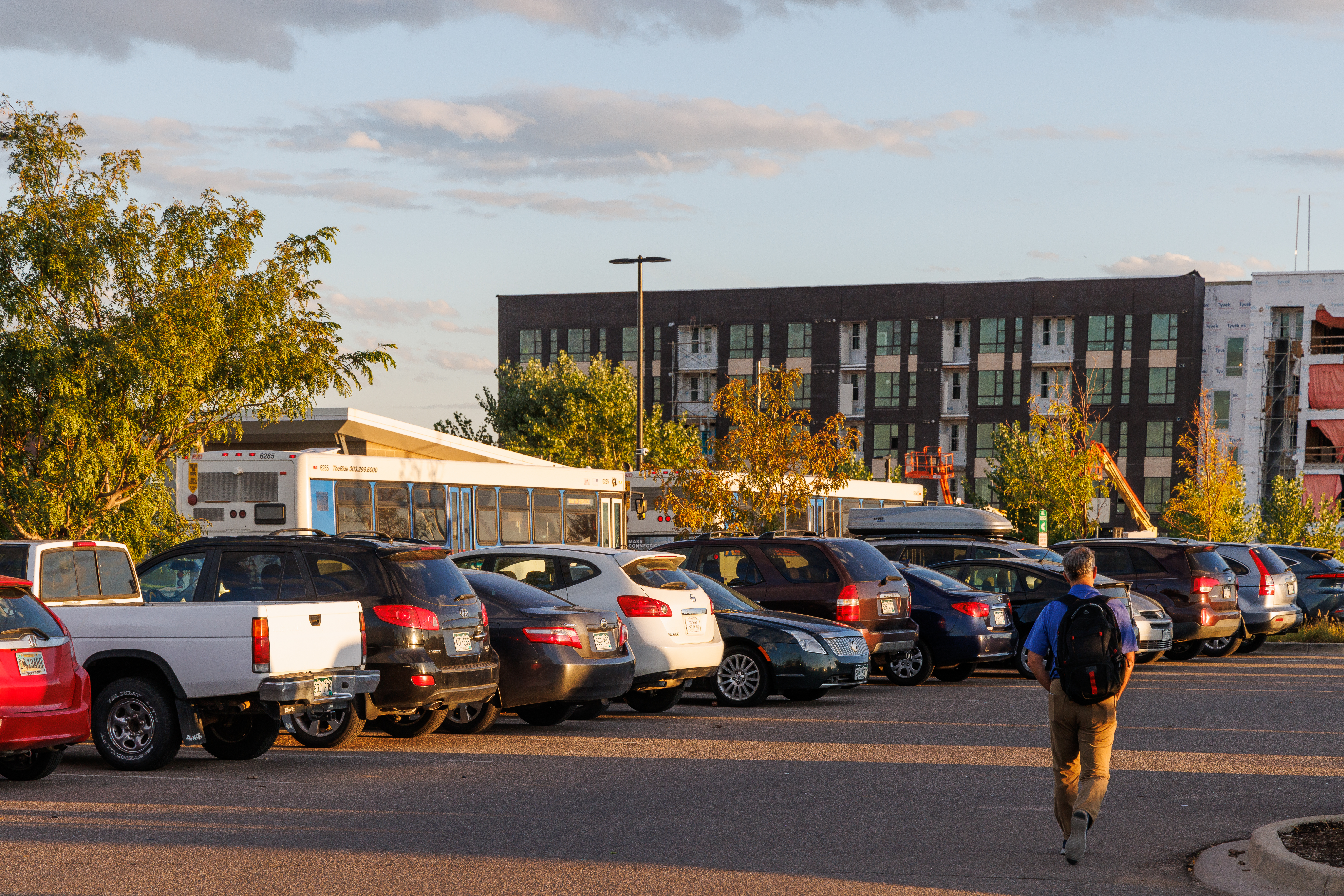 Determine if Parking Fees Apply
Park-n-Ride fees largely depend on if your vehicle is registered to an address within the boundaries of the RTD service district. If your vehicle is registered within RTD Boundaries, it's free to park at nearly all of RTD's Park-n-Rides for up to 24 hours. If your vehicle is registered to an address outside the district, then you may need to pay for the first 24 hours of parking. Use our License Plate Lookup tool below, or the Lookup Your RTD District tool to confirm if your vehicle is registered to an address inside or outside the district.

For parking that extends beyond the first 24 hours, a $2.00 daily fee applies to vehicles registered within the district. If your vehicle is registered out of district, a $4.00 daily fee applies. You must pay before getting on the bus or train.To find a Park-n-Ride closest to you, take a look at the Park-n-Ride map, or view a list of Park-n-Ride facilites.
Determine if you're In or Out of District
Fees vary for in and out of district passengers. Use the license plate lookup to see if your vehicle is registered to an address in or out of RTD boundaries.
Pay for Parking
Pay Station
Once you've arrived at the Park-n-Ride or train station, find the blue canopy pay station near the bus stop or train platform. Your license plate number will be required. You may pay cash (exact change, please) or use VISA, Mastercard, Discover, or American Express. Customers may park for up to 30 days.
Mobile Payments
Mobile payment is available for daily and extended parking. When you pay with your mobile device you will need to provide your license plate number and the Park-n-Ride or station parking zone number. You can find the parking zone number posted on signs above the pay stations at each location.
Other Mobile Payment Options
1. Parking.com mobile website
2. Scan QR code at Pay Station to pay via mobile website
3. Pay by text- Text the Parking Zone number to 201-379-2616, then pay via the link response to the mobile site.
See a list of Parking Zone numbers
Reserved Parking
Customers within the RTD service area may pay a monthly fee for reserved parking for arrival times between 5 a.m. and 10 a.m. Monday - Friday. After 10 a.m., reserved parking spaces are available for anyone. You can set up your account online or log into your existing Reserved account. Please view the SP+Parking privacy policy.
For questions and feedback on payments, reserved spaces, exemptions, or enforcement please email [email protected] or call 303-292-1505.
Additional Information
Long-Term Parking
Vehicles may be parked continuously for no longer than 30 consecutive days. Vehicles parked greater than 30 consecutive days without being moved may be subject to ticketing and towing at the owners expense.
RV Parking
RV parking is not allowed at any RTD location.
Parking for Airport Travel
Park-n-Rides offer significant cost savings to parking at Denver International Airport and those located along the A Line provide direct access to the airport without the need to transfer lines.
Note you must pay for parking ahead of you leaving your vehicle and boarding RTD.
Safety Tip: Don't advertise your absence. Take your parking receipt with you and do not leave it on your dash.
The 61st•Peña Park-n-Ride is managed by Denver International Airport. Visit www.flydenver.com for pricing and other information.
Exemptions
Criteria
Recently moved into district

People who recently moved to an address inside RTD boundaries from either Colorado or out-of-State who plan to update their vehicle registration within time limits prescribed by Colorado law.
U.S. military personnel

U. S. military personnel from out of state who are assigned to active duty in Colorado and who reside within RTD boundaries.
College students

College students currently enrolled in at least 10 credit hours, who attend classes a minimum of 3 days a week and temporarily reside within RTD boundaries while attending school.
Disabled drivers

Drivers whose vehicles display a valid disabled placard or license plate (including disabled veterans) are exempt from paying parking fees for the first 24-hours. For parking that extends beyond the first 24-hours, a $2.00 daily fee applies.
Enforcement
Nonpayment of applicable parking fees will result in any of the following violations:
First violation: warning
Second violation: $20
Third violation: $50
Fourth violation: $100
Fifth and subsequent violation: $100, boot or tow at owner's risk
If you disagree with your violation notice, you can fill out a violation dispute form or call 303-292-1505. Violations can be paid by calling 303-292-1505, or online. Customers with a dispute have the right to a formal dispute hearing conducted by an appointed RTD Hearing Officer. Requests for such a hearing must be made in writing with 14 days of the occurrence to the Parking Program Manager, 1660 Blake Street Denver, CO 80202.
Alternatives to Parking
Though we try to plan adequate space at all Park-n-Rides, certain locations fill up early. If they do, consider the following:
Take an RTD bus or FlexRide to your Park-n-Ride, and ask the driver for a 3-Hour Pass when you board. Use it as a credit toward your fare on your connecting route.
Try another Park-n-Ride along your route.
Have someone drop you off and pick you up.
Start/join a carpool or vanpool.
Ride your bike, rent a bike locker or bring your bike with you on bus or train. RTD has a limited number of leased bike lockers available and many bike racks.
The Fine Print About Park-n-Ride and Parking Fees
RTD Park-n-Rides are for the specific use of transit passengers. Parking is available on a first-come, first-served basis. Covered and uncovered parking options vary by location. Drivers of vehicles who are in violation of the parking rules and fees may receive a warning, be ticketed, booted or towed at the owner's expense. RTD is not responsible for loss, damage, or theft of your vehicle or belongings while parked at a Park-n-Ride. SP+ manages and monitors all license plates daily at Park-n-Rides where parking fees apply.
Unless otherwise permitted by RTD, parking a vehicle in Park-n-Rides without use of the RTD transit system is prohibited and may subject the owner to penalties including towing of the vehicle at the owner's expense.
Fees at Park-n-Rides
In-District and Out-of-District Information
Free Park-n-Rides

In-District and out-of-District customers can park for FREE for 24 hours at the following facilities:

8th and Coffman
104th Avenue and Revere
Alameda and Havana
Aspen Park
Bergen Park
C-470 and South University Blvd
Commerce City and 72nd
Eastlake and 124th
Englewood Station
Evergreen
Genesee Park
Highlands Ranch Town Center
Hwy 119 and Niwot
Jefferson County Gov't Center - Golden Station
Ken Caryl and C-470
Lafayette
Lincoln and Jordan
Longmont
Lyons
Nederland
Northglenn and 112th
Olde Town Arvada**
Original Thornton and 88th
Olympic
Paradise Hills
Parker
Pine Junction
Pinery
Smoky Hill and Picadilly
Southwest Plaza
Thornton Crossroads and 104th
US 85 and Bridge Street
US 285 and Mountain View
US 285 and Twin Forks
US 287 and 21st Street
US 287 and Niwot Road
Wadsworth and Hampden
Park-n-Rides with Fees

In-District, initial 24 hours per visit: free
In-District, each additional 24 hours: $2.00
Out-of-District, every 24 hours: $4.00

2nd Ave and Abilene Station
13th Ave Station
27th Way and Broadway
30th and Downing Station
38th and Blake Station
39th St and Table Mesa
40th Ave and Airport Blvd - Gateway Park
40th and Colorado Station
41st and Fox
60th Ave. & Sheridan at Arvada Gold Strike
Arapahoe at Village Center Station
Arvada Ridge
Aurora Metro Center Station
Belleview Station
Boulder Church of the Nazarene
Boulder Junction at Depot Square Station*
Central Park Station
Clear Creek & Federal
Colorado Station
County Line Station
Dayton Station
Decatur-Federal Station
Dry Creek Station
Evans Station
Federal Center Station
I-25 and Broadway Station
Lakewood-Wadsworth Station
Lincoln Station
Littleton-Mineral Station
Littleton-Downtown Station
Nine Mile Station
Oak Station
Orchard Station
Pecos Junction
Peoria Station
Sheridan Station
Southmoor Station
RidgeGate Parkway Station
Tantra Dr and Table Mesa
Thornton
University of Denver Station**
US 36 and Broomfield
US 36 and Church Ranch
US 36 and East Flatiron Circle
US 36 and McCaslin
US 36 and Sheridan
US 36 and Table Mesa
Wagon Road
Wheat Ridge & Ward Road
Yale Station

* Pay Station for RTD Customers is located in the bus terminal lobby.
** No overnight parking permitted at this station.
Privately Owned Facilities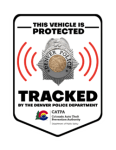 Our partners at the Denver Police Department are committed to reducing auto thefts in Denver with their DenverTrack program. DenverTracks works with vehicle GPS systems to track stolen vehicles in real time. To learn more and register your vehicle, click here.