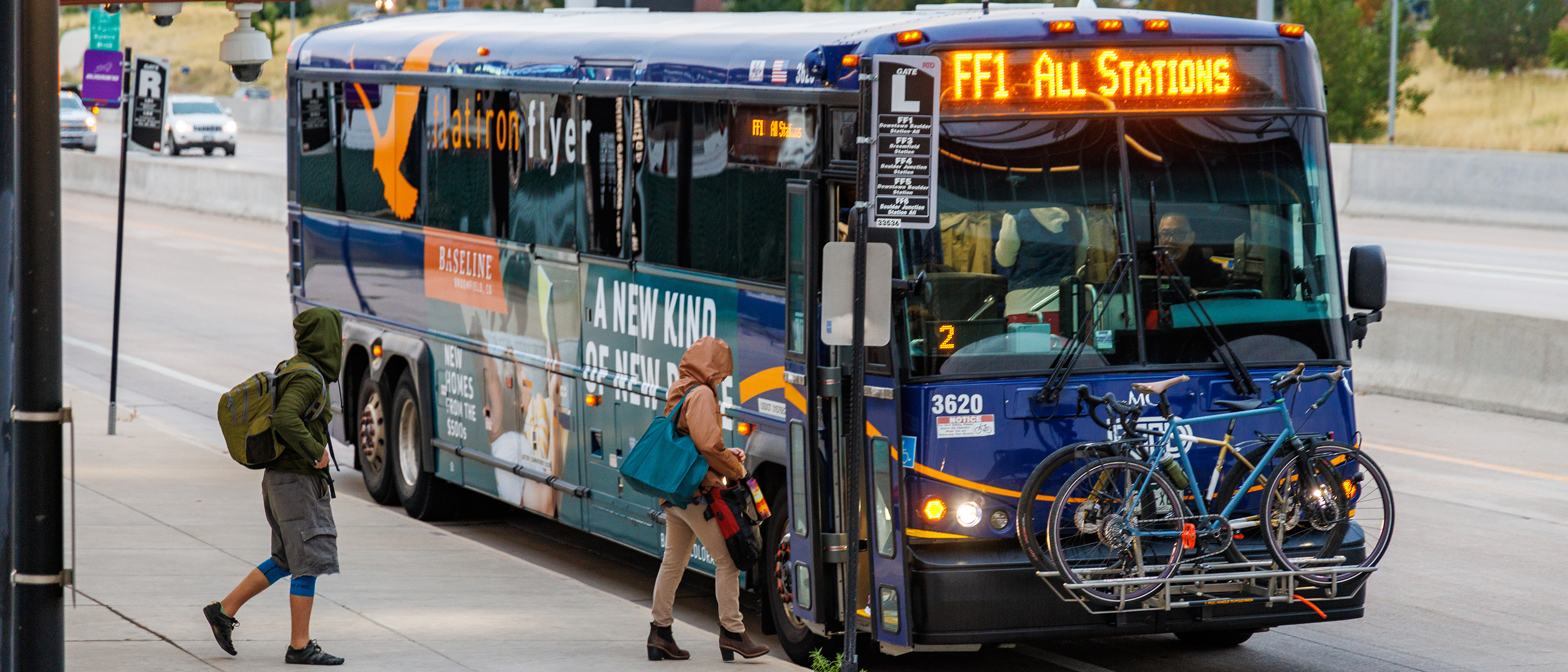 Flatiron Flyer
Travel with ease on the Flatiron Flyer between Denver, Westminster, Broomfield, Louisville, Superior, and Boulder.
Convenient Choices with Multiple Options
The hallmark of bus rapid transit is frequent, reliable, and predictable service. The Flatiron Flyer service provides multiple options with convenient travel choices.
Depending on time of day and direction of travel, there may be multiple routes that work for you. Use our Trip Planner to find your route.
Wheelchair Accessible, Bike Storage, Luggage Compartments, and More
Bike Connectivity
Alternative forms of transportation are a key part of creating a sustainable transportation network, which is why on-board bike storage, bike parking, and bike paths are key features of the Flatiron Flyer and US36 improvement project.
US36 Bikeway
An 18 mile bike highway is being constructed between US36 & Table Mesa Station and 80th Avenue in Westminster. The bikeway is paved, 12 feet wide, and features protective barriers along the highway.
Bike Parking and Storage
There are over 270 bike parking spaces on RTD property along the Flatiron Flyer route, including bike racks and reservable bike lockers. The Flatiron Flyer bus can also carry up to eight bikes if you need to complete your commute on two wheels.
Secure Bicycle Parking
Bus-Then-Bike Shelters currently provide long-term, secure, and weather-protected bicycle storage at two future Flatiron Flyer stations: US36 & Table Mesa Station and Downtown Boulder Station. Commuters can combine a bus trip and bike ride by keeping a bike in the shelter overnight or during the day and biking the first or final mile to or from a Flatiron Flyer Station.
Additional shelters are in the works at US36 & McCaslin Station and Boulder Junction at Depot Square Station, and planned for the US36 & Sheridan and US36 & Broomfield Stations. For an access card, sign up at www.BusThenBike.com