Safety Starts with You
Help keep our buses, trains and transit hubs safe by staying alert and keeping a watchful eye on your surroundings. Guidelines developed by the Department of Homeland Security (DHS) are available through our website to help you recognize the signs of terrorist activities. In the event you encounter a suspicious package or individual, immediately contact RTD Transit Watch. Transit Watch can also be used to report other safety and security concerns, such as an icy staircase or disorderly conduct.
The Transit Watch App
With RTD's Transit Watch app, you never ride alone. The app is a quick, easy and anonymous way for riders to communicate directly to Transit Police about safety and security concerns. App users have the option of directly calling Transit Police or sending an incident message. Don't have a smart phone? Call, email or text RTD Transit Watch for immediate assistance or use the emergency telephones located on our rail platforms and Park-n-Rides.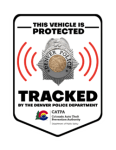 Our partners at the Denver Police Department are committed to reducing auto thefts in Denver with their DenverTrack program. DenverTracks works with vehicle GPS systems to track stolen vehicles in real time. To learn more and register your vehicle, click here.