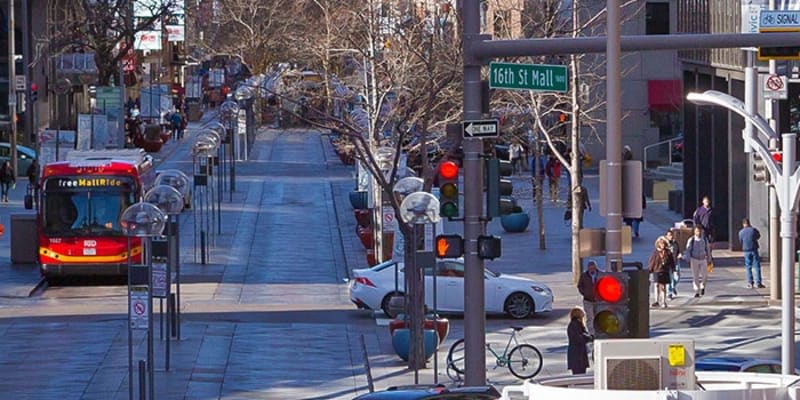 Construction will take place in phases, and as a result RTD's Free MallRide and other bus routes will have to detour accordingly. Click here to learn more about the MallRide service detours, and sign up for RTD Service Alerts to ensure you're notified if your bus route is affected.
---
Project Overview
October 2023
The Denver Department of Transportation and Infrastructure is embarking on a project to renovate the 16th Street Mall. The 16th Street Mall Project will revitalize the Mall with the goals of improving safety and mobility, addressing deteriorating infrastructure, and creating more opportunities for the people who live, work, and visit the Mile High City so everyone can enjoy the Mall for years to come.
Constructed in 1982, the 16th Street Mall includes the transit-way and adjacent pedestrian areas that Denver Union and Civic Center stations. Traditionally serving more than 40,000 customers daily, RTD's Free MallRide is a convenient travel option for downtown residents, businesses, and tourists.
Since its construction nearly 40 years ago, the Mall's aging infrastructure has reached its design life span and updates are needed to ensure its continued success. In partnership with RTD, the City and County of Denver's 16th Street Mall Project addresses concerns with both pedestrian and mall shuttle safety, along with the significant cost of annual maintenance.
The project will reconfigure the Mall's layout to create wider sidewalks, a new amenity zone and center-running Free MallRide shuttle service.