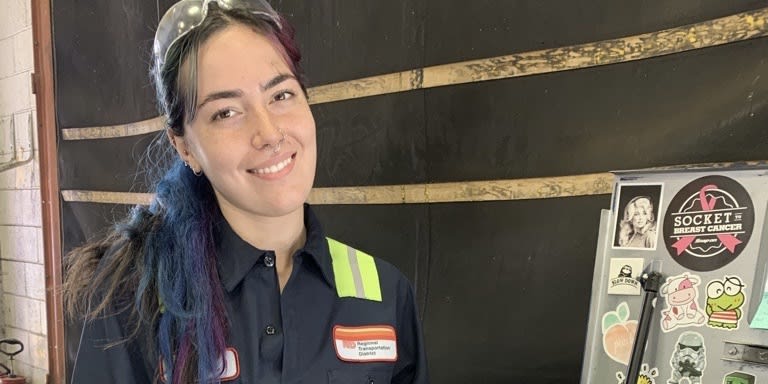 Meet mechanic Sarah Bliss: 'It's really rewarding knowing that I'm here'
It's another day of work on the maintenance floor at RTD's Platte division, with buses rolling in and out of the shop all day for inspections and repairs. A general repair mechanic strides outside with a stack of new air filters, looking for the vehicles in need of a clean one. Reentering the building, the employee keeps up a good pace while walking and is greeted by several colleagues. Like all of RTD's 138 general repair mechanics, this one is focused on the day's tasks.
The only thing that sets Sarah Bliss apart on the floor is that she is just one of four general repair mechanics working at RTD who identify as female. Bliss is also one of two women hired after graduating from RTD's Diesel Technology (DTECH) training classes, offered through a collaborative effort between RTD and Front Range Community College. Since that program's inception in 2016, RTD has hired 47 graduates, who are provided with the electrical, engine and brake skills that are needed to work as diesel mechanics with the agency.
Having been with RTD for eight months, Bliss acknowledges she is at the beginning of her career. "I want to learn more, and I want to get more experience," she said. That said, she added, "I'm here because I made it. I had to work for it."
According to the most recent data from the Bureau of Labor Statistics, approximately 272,000 people nationally work as bus and truck mechanics and diesel engine specialists, with about 4,400 of them in Colorado. Across the United States, those working for urban transit systems constitute just 5.8% of all workers in the field. Most mechanics identify as male.
Bliss came to RTD out of high school, after completing two years of automotive technology classes at Bollman in Thornton. While vehicle repair was around her while growing up, she wasn't interested in cars until she began taking classes.
"I went into it initially thinking I should at least know how to change my own tire, change my oil," Bliss said. "I realized I was good at it. I excelled and lettered twice. I got National Technical Honor Society" (which honors students pursuing career and technical education). "It's really rewarding knowing that I'm here, and I'm doing more than a lot of other people my age."
Technical trainer Jon Paul Mitchell has been impressed by Bliss' skills and work ethic since meeting her in the DTECH program, which he teaches. She is an asset to the agency, he said.
"What Sarah brings to the floor is an encouraging face for all other female mechanics," Mitchell said. "She is the cornerstone that we can recruit and build from. One day, she will be a great supervisor."
Bliss notes that her work enables her "to figure out the inner workings of everything, and how to make it run on its own." She likes to fix problems that contain a procedure to follow "so that I'm certain what I'm doing and what result I should be looking for." She enjoys following the steps inherent in brake repair and wants to work on engines and transmissions.
One unusual element of satisfaction that Bliss can claim, beyond getting buses back out on the street: She works with her father. While Sarah was enrolled in DTECH, Brandon Bliss, also a mechanic, accompanied her on a tour of RTD and thought the agency looked like a good place to work. He joined his daughter at Platte shortly after she was hired. Their shifts overlap each day for a few minutes, enough time to say hello and exchange a hug.
"I'm just impressed at how she's getting it done," Brandon Bliss said, speaking to the strength his daughter displays. "I'm proud of her more than anything."
Most people trained to be mechanics are employed by private shops. Bliss chose to work for RTD, she said, "because this shop keeps the rest of society running and provides a good stepping stone for my career."