Neighborhood EcoPass
Neighborhood EcoPass is a pass program purchased by neighborhoods, apartment buildings or HOAs that allows residents unlimited rides on RTD buses and trains.
Benefits for Neighborhoods, HOAs, and Residential Buildings
Whether your community is a single-family neighborhood, a high-rise building, or a mix of both, the Neighborhood EcoPass provides transit benefits and flexibility for your residents.
Connect your neighborhood or property to the entire Denver metro region
Provide attractive benefit for current and future residents
Enhance community perception and relations
Provide an environmental alternative to single occupancy vehicles
Reduce parking costs by offering transit as an alternative
Flexible cost-sharing options
Benefits for Residents
Whether riding for work or pleasure, the Neighborhood EcoPass connects you to the entire Denver metro region. Reclaim your time, catch up on reading, emails, or take a nap and let us do the driving for you! Share this Fact Sheet with your neighborhood or HOA representative to share all the benefits that the Neighborhood EcoPass provides!
Unlimited rides on RTD buses and trains
Unlimited rides to and from the airport
Reduce parking and commuting costs
Reduce your reliability on single occupancy vehicles
Connect to the Denver metro region
Convenient electronic transit card technology makes riding a breeze.
No need to carry cash, tap and go with your Neighborhood EcoPass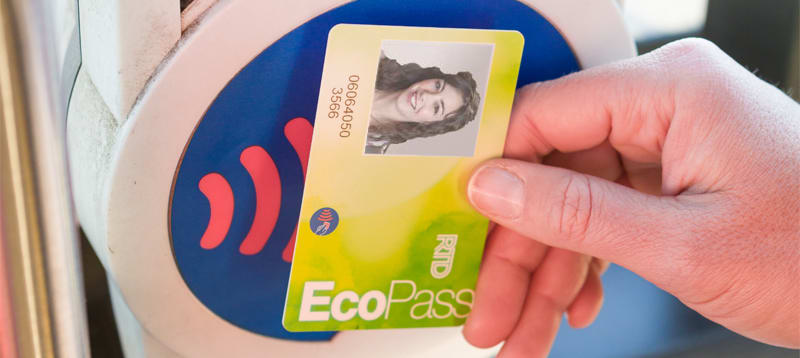 Go cashless! Just tap and go with your Neighborhood EcoPass!
The Fine Print
Neighborhood EcoPass is not valid for special services, including Access-a-Ride or SeniorRide. To be eligible for the Neighborhood EcoPass program, a neighborhood must be represented by either a county or city government entity, or a registered homeowner association and meet the following eligibility requirements:
Neighborhood must be located within the Regional Transportation District service area
All homes within a specific neighborhood must be included in the contract
Residents must be approved by the association and must reside within the specified neighborhood