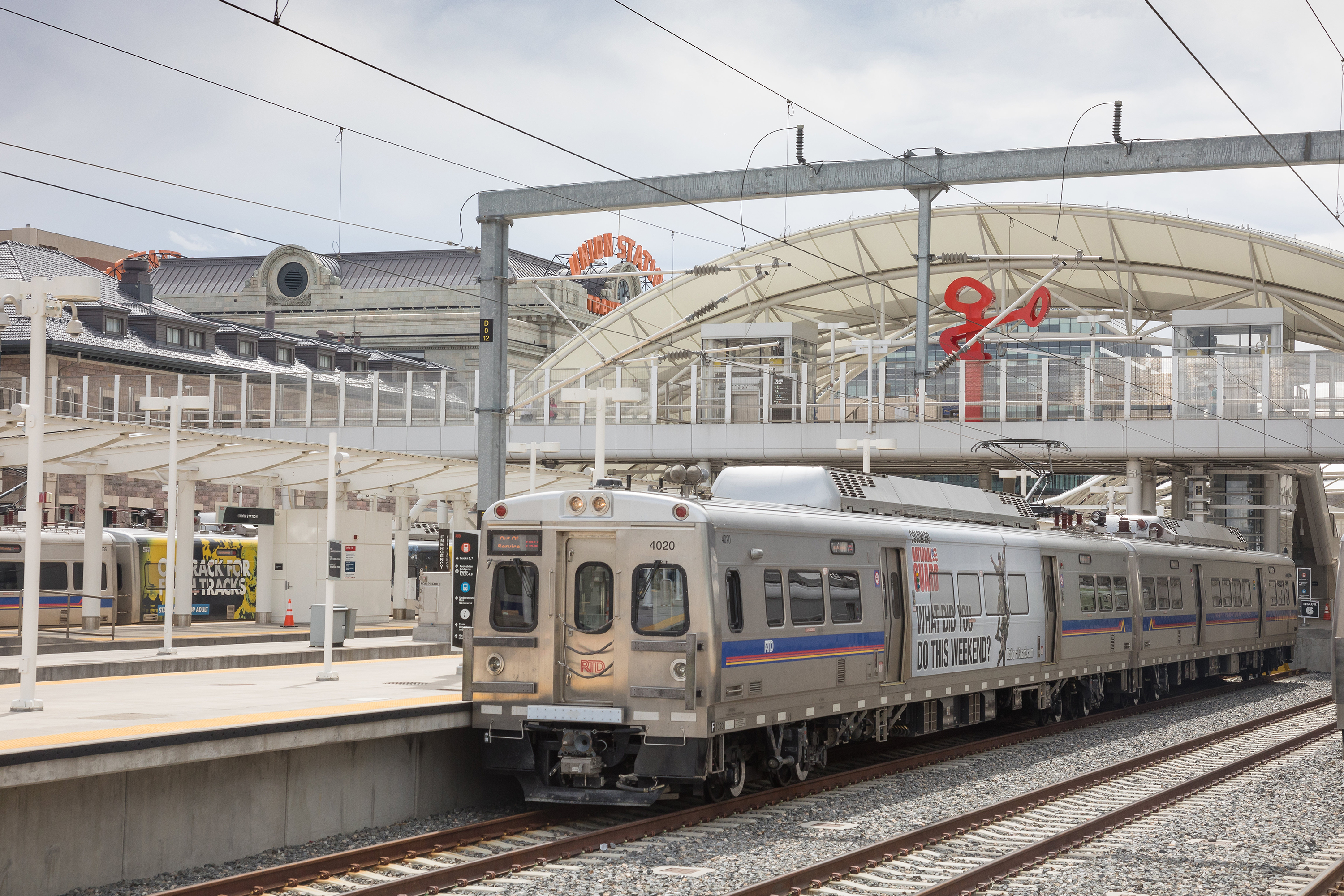 Facts
Dimensions: 85 ft. long, 10.5 ft. wide, 12.6 ft. high
Weight: 70 tons (empty)
Maximum Speed: 79 mph
Seats: 91
Total Capacity: 170 (including standees); 2 wheelchair spaces per car
Motor power rating: 620 horsepower per vehicle
Power source: 25,000 volts AC on an overhead electrical system
Project Overview
RTD's commuter rail vehicles are heavier and travel faster than light rail vehicles, but operate in a similar way, using overhead electric lines.
The vehicles will travel up to 79 miles per hour, go longer distances and make fewer stops than a typical light rail system.
Sixty-six (66) vehicles were purchased to serve the University of Colorado A Line to Denver International Airport, the B Line to Westminster, G Line to Wheat Ridge and the N Line to Thornton.
The vehicles have large seats with headrests, overhead storage, and luggage and bicycle racks.
Passengers can walk directly from the station platform onto the vehicles without climbing stairs, as each door offers level boarding. This means each vehicle entrance is accessible to wheelchairs, rolling luggage, bicycles, strollers and other large items.
The steel car bodies were manufactured at Hyundai Rotem's plant in South Korea, then shipped to the company's plant in Philadelphia for fitting and assembly of various components, including wheel trucks, brakes, and seats.
The vehicles are maintained, serviced and cleaned at the commuter rail maintenance facility at 5151 Fox St. in Denver's Globeville neighborhood.