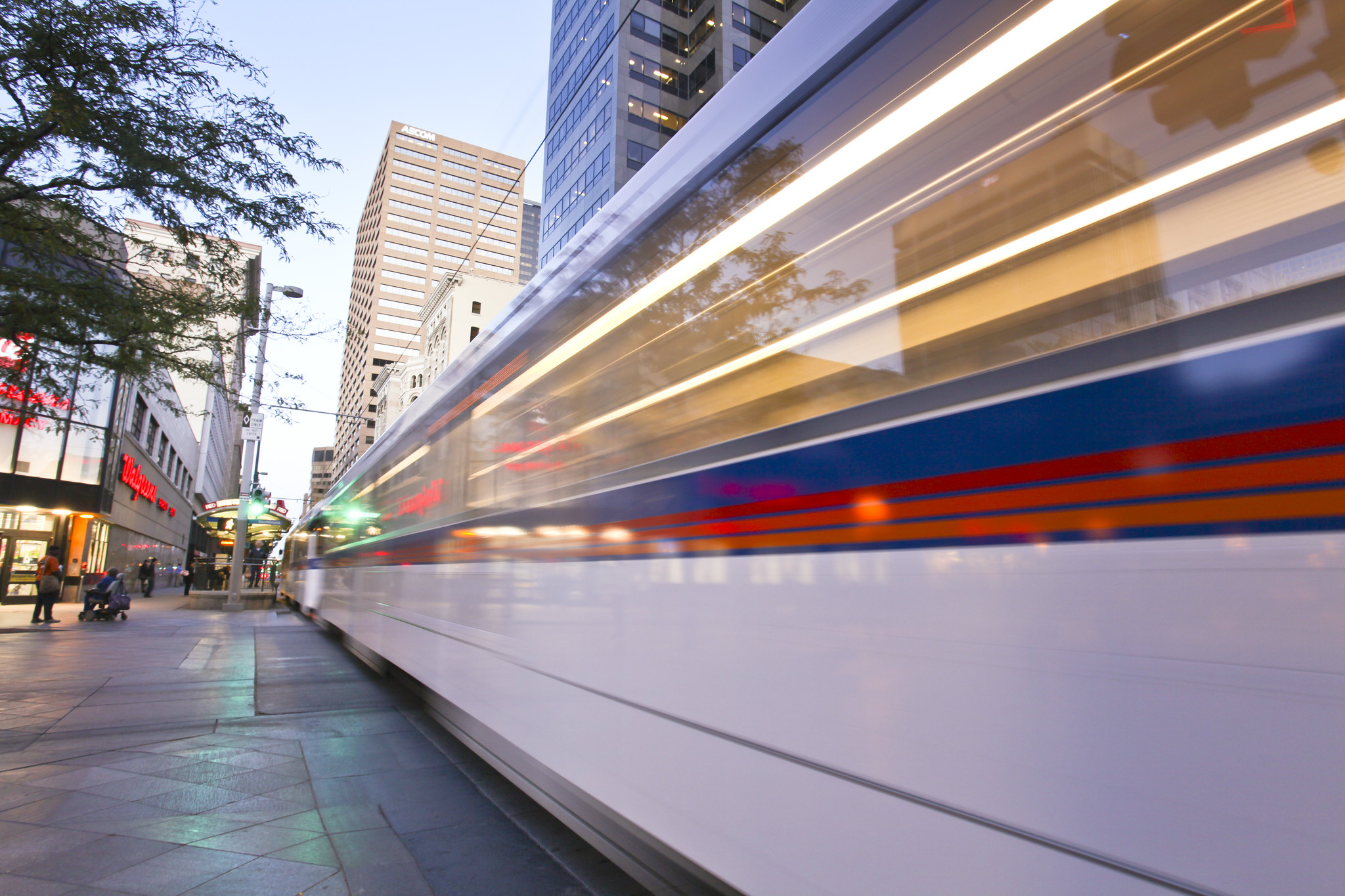 Respect the Ride focuses on providing a safe, convenient, and enjoyable experience for all customers, while also discouraging disruptive or antisocial behaviors. In short, all that RTD asks is that customers respect others and be considerate of its employees, vehicles, and facilities.
A Welcoming Transit Environment
Respect the Ride
Respect the Ride is a tool and strategy to support RTD's efforts to maintain a safe, convenient, and enjoyable experience for all customers. The overarching goal is to discourage disruptive or antisocial behaviors.
Education is the First Step
Prior to enforcing prohibited behaviors outlined in Respect the Ride, RTD will make every attempt to first educate and inform the individual about rules and the expectation of common courtesy. Oftentimes, individuals may be unaware of RTD's guidelines or need a gentle reminder. Educating the individual about Respect the Ride will always be the first step taken when interacting with a customer or other individual.
Connecting Individuals to Resources
RTD deploys a team of mental health clinicians and a full-time outreach coordinator for the unhoused to support individuals who may need assistance or information about available resources. In the spirit of compassion, RTD connects individuals to community services, resources, information, and other support not offered by a public transit system. Providing access to much-needed resources and deploying problem-solving strategies better assist members of the community who are unhoused, experiencing mental health issues, or dealing with substance abuse challenges. Additionally, RTD is increasing the number of qualified personnel who are able to connect members of the community with support resources. This effort is only possible through continued partnerships with dozens of state and local agencies, nonprofit organizations, and community groups.
Enforcement and Suspensions
If a situation warrants a response beyond education or community resources, enforcement steps may be necessary. Any individual who continues to engage in prohibited behavior or activities may be subject to enforcement ranging from a verbal or written warning, immediate suspension from a vehicle or facility, or a criminal citation.
Enforcement of Respect the Ride will always be conducted in a fair and reasonable manner. Read More.
Appeal of Suspensions
Every person issued a written Notice of Suspension shall be entitled to a hearing. The purpose of the hearing is to review the evidentiary basis for issuance of the suspension, determine whether the length and scope of the suspension is commensurate with the nature of the violation, and consider any mitigating factors. Read More.
ADA and Reasonable Accommodations
Under the Americans with Disabilities Act (ADA), transportation entities, including RTD, are required to make reasonable modifications to their policies, practices, and procedures to avoid discrimination and to ensure that all programs are accessible to individuals with disabilities. Read More.
Highlights
Basic civility and respect are expected. Spitting, littering, indecent exposure, stealing, damaging RTD property, and other disorderly conduct are not allowed.
Individuals are prohibited from impeding the safe boarding or exiting of other customers.
It is illegal to avoid paying a fare, whether by skipping payment portals or using counterfeit fare.
The use of illegal drugs and consumption of alcohol is prohibited. Smoking tobacco, including the use of electronic cigarettes, is not allowed on buses and trains or in RTD facilities.
Selling goods or services is not allowed. This includes distributing handbills and flyers to customers.
Other than service animals, animals and pets are prohibited on vehicles or in facilities. However, small pets in carriers are permitted.
It is illegal to bring explosives, firearms, or other potentially dangerous objects on RTD's vehicles or in facilities unless you have proper documentation.
Playing music is permitted only if you use earbuds or headphones that prevent your music from bothering other customers.
Food and drinks need to be stored in resealable containers.
You must exit buses or trains once they have completed their routes.
Being respectful of other customers and considerate to RTD's employees does not take more than common courtesy. Review Full List Here.