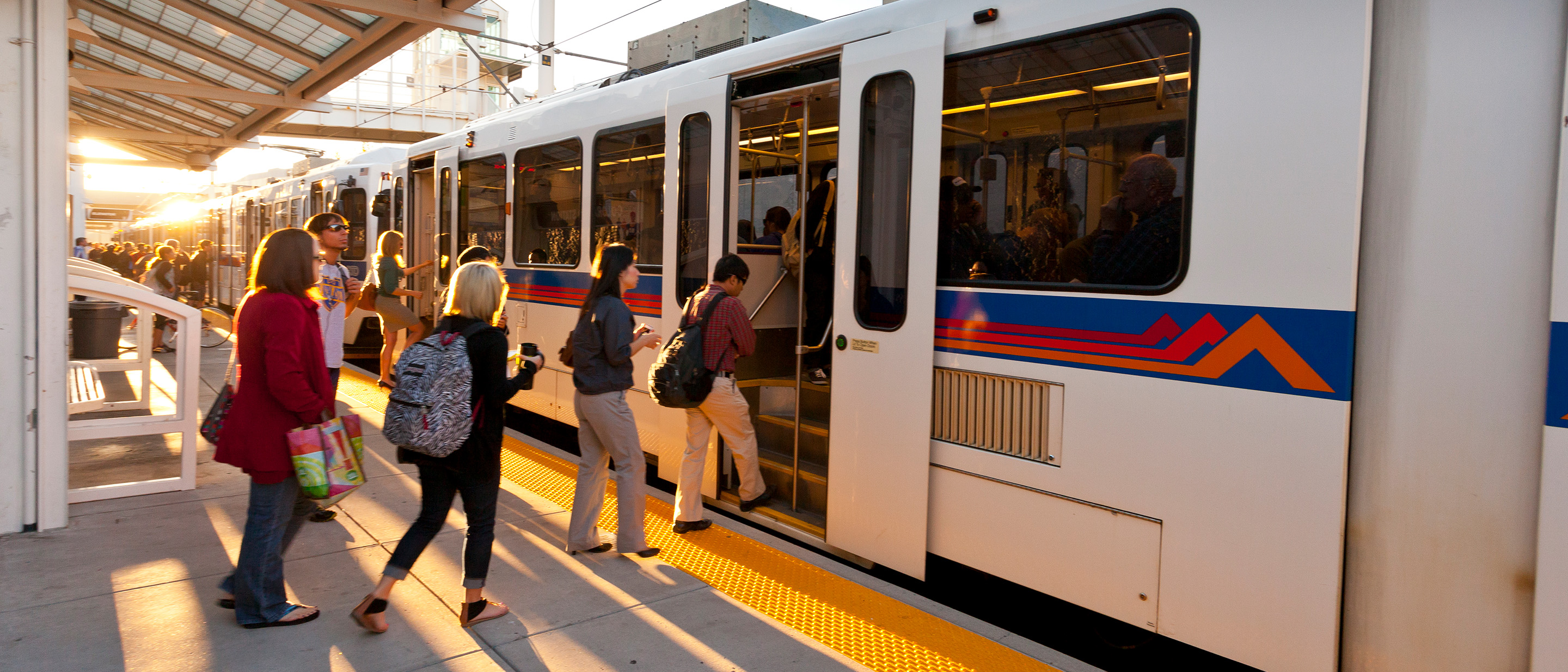 Step 2 - Pay your Fare
A valid ticket is required before you board the rail. To purchase a ticket, use the ticket vending machines (TVMs) located at each station. Cash (coins and bills) and debit/credit cards are accepted at TVMs. TVMs accept VISA, MasterCard, Discover and American Express. Your ticket will be automatically validated with the date and time when you purchase it from the machine.3-Hour Passes are valid for unlimited trips at the same service level on other buses or trains. Also available for purchase are Day Passes, which allow you to take unlimited rides on bus or train all day for the price of a round-trip.
Learn more about using ticket vending machines
Validate tickets
If you use a ticket from a 10-Ride ticket book or a Free Ride Coupon, validate your ticket at the ticket validator at the rail station. Tickets are valid for 3 hours after the time of validation.
Passes
If you have a valid monthly pass or 3-Hour Pass, you do not have to buy a ticket. Your monthly pass is valid only for travel in the fare zones indicated on the pass. To obtain a fare upgrade to a Regional/Airport Day Pass, obtain a fare upgrade from a ticket vending machine. If you are using a smart card, you must tap on at a smart card reader located along the rail platform prior to boarding the train. Be sure to verify the default service level on the reader and if necessary select your correct service level prior to tapping your card.
Step 3 - Locate the Correct Platform
Overhead signs next to the rail tracks indicate which direction the train is going. Signs on each train indicate the rail line and the final destination for that train.
Step 4 - Stand Behind the Yellow Strip
Yellow strips located next to the tracks indicate the safe waiting distance from the trains. Stay behind the strip until the train comes to a complete stop. Once the train has stopped the doors open automatically, or you can open the door by pushing one of the lighted green buttons.
Step 5 - Prepare to Board
It is easier and faster for everyone if you allow other passengers to get off the train before you board.
If you are riding rail to special events, crowds may be waiting to board at some stations. Please form orderly lines and be patient if you have to wait a few extra minutes until a train arrives with available space.
Riding Commuter Rail
Commuter rail comes to Denver with the A Line and the B Line to Westminster. Commuter rail has many new, different features than light rail. Commuter rail trains carry more passengers, operate at higher speeds and make fewer stops than light rail.
The A Line provides fast, convenient service to DIA. Additionally, commuter rail vehicles offer different cargo space options for travelers making their way to and from Denver International Airport.
Boarding the Train
Once the train has come to a complete stop and the doors have opened, you may safely board the train. If you see the doors are closing, please wait for the next train to safely board.
Luggage Storage
Commuter rail vehicles feature overhead storage running the entire length of the vehicle, similar to an airplane or regional bus. Additionally, there are two designated luggage storage racks per vehicle.
Bikes and Large Cargo
Each vehicle has two multi-purpose storage racks. Each storage area can hold two bikes, four per vehicle. This large storage space is also ideal for large pieces of luggage like skis and snowboards.
Level Boarding
With commuter rail cars, every door has level boarding. This means there are no steps to maneuver when boarding or exiting the train. You can roll your bike, luggage, stroller, or wheel chair directly onto the vehicle.
Learn more about riding commuter rail
Be Safe Around Buses and Trains
Don't touch those wires. The wires above the train are dangerous and extremely high voltage. Never try to touch them or reach them with an object.
When it's gone, it's gone. Never chase or touch a moving vehicle. Your life is more important than a few missed minutes.
Stay off the tracks. Stay alert when near the tracks - it might save your life. Trains travel at high speeds, come from both directions and can't stop very easily.
Step 6 - Be Ready for Fare Inspection
Fare inspectors circulate through rail cars to check for valid fare. When asked, show your validated ticket, pass, upgrade, zone receipt, smart card or transfer. You may also be asked to show your ticket, pass or transfer at rail stations in areas identified by "Fare Paid Zone" signs.
Step 7 - Exit at your Stop
Your train will stop at every station along the route. To exit, the door will open automatically or push the "Open Door" button located near the door.
How to Transfer between Bus and Rail
Your validated rail ticket serves as a bus transfer if you need to complete your trip on a bus. Just show your bus driver the validated rail ticket as you board.
If you are starting out on a bus and then transfer to rail, be sure to ask the bus driver for a transfer when you board the bus and keep it with you in case a rail fare inspector asks for proof of payment.
The easiest transfer is with a pass. All passes are valid on rail. Depending on how many rail fare zones you travel through, you may need to pay an additional fare.
More Information
Light Rail Fares
RTD's fare structure is comprised of 4 rail fare zones and Local/Limited and Regional bus routes. Use the MyRide mobile barcode or MyRide card to make purchasing fares simple and easy!
Find fare information here